Lord Farquaad is the one of the main antagonists of dreamworks
He is the main antagonist of the first shrek.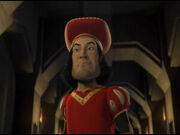 Plans
All he wants is to marry a princess and be an offcial king of duloc,but he failed.
Death and Fate
He was eaten by a dragon and became a ghost,as a ghost he exploded into pieces by a fire.